多肽近些年在医药化工,食品化工,护肤品,生物科技等行业大放异彩。受到各行各业的广泛关注和重视!那么什么是多肽呢?
  Polypeptide in recent years in the pharmaceutical chemical, food chemical, skin care, biotechnology and other industries shine. Be widely concerned and valued by all walks of life! So what are peptides?
  多肽是α-氨基酸以肽键连接在一起而形成的化合物,是蛋白质水解的中间产物。由两个氨基酸分子脱水缩合而成的化合物叫做二肽,同理类推还有三肽、四肽、五肽等。通常由10~100个氨基酸分子脱水缩合而成的化合物叫多肽。蛋白质有时也被称为多肽。多肽也简称为肽,是20世纪被发现的。多肽有生物活性多肽和人工合成多肽两种。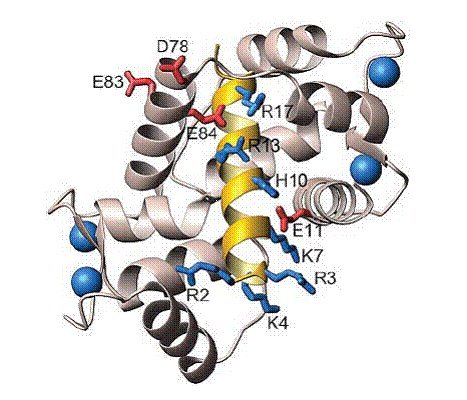 A polypeptide is a compound of -amino acids joined together by peptide bonds and is an intermediate product of proteolysis. Compounds formed by the dehydration and condensation of two amino acid molecules are called dipeptides, and similarly there are tripeptides, tetrapeptides, pentapeptides, and so on. A compound usually formed by the dehydration and condensation of 10 to 100 amino acids is called a polypeptide. Proteins are sometimes called polypeptides. Peptides, also known as peptides for short, were discovered in the 20th century. There are two kinds of peptides: bioactive peptides and synthetic peptides.
  人体很多活性物质都是以肽的形式存在的。肽涉及人体的激素、神经、细胞生长和生殖各领域,其重要性在于调节体内各个系统和细胞的生理功能,激活体内有关酶系,促进中间代谢膜的通透性,或通过控制DNA转录或影响特异的蛋白合成,最终产生特定的生理效应。蛋白质多肽在生命科学的发展中占据居住轻重的地位。近些年被广泛重视和饥饿应用。
  Many of the body's active substances are in the form of peptides. Peptides are involved in various fields of human hormones, nerves, cell growth and reproduction, and their importance lies in regulating the physiological functions of various systems and cells in the body, activating relevant enzymes in the body, promoting the permeability of intermediate metabolic membrane, or finally producing specific physiological effects by controlling DNA transcription or affecting specific protein synthesis. Protein polypeptide occupies the important position in the development of life science. In recent years, it has been widely regarded and applied to hunger.
  那么对于多肽行业来说他的发展历程是怎么样的呢?今天就带大家一起了解一下多肽发展的编年史。
  So what is the history of the polypeptide industry? Today I'm going to take you through the annals of the development of peptides
  1902年,伦敦大学医学院的两位生理学家Bayliss和Starling在人体内首次发现了多肽物质(胰泌素),由于其影响极为深远,诺贝尔奖委员会授予他们诺贝尔生理学奖,至此,多肽物质正式出现在科学研究之中,并为之后的长久发展打下了基础。
  In 1902, London university school of medicine in two physiologist Bayliss and Starling in the human body for the first time showed that peptides (pancreatic gastrin-releasing), because of its influence is extremely profound, the Nobel committee awarded Nobel Prize in physiology, at this point, peptides appeared officially in scientific research, and laid the foundation for after long development.
  1931年,一种名为P物质的神经肽被科学家发现,它能够兴奋平滑肌并能舒张血管而降低血压。
  In 1931, scientists discovered a neuropeptide called Substance P that excites smooth muscles and relaxes blood vessels, lowering blood pressure.
  1952年,生物化学家Stanley Cohen发现小鼠交感神经纤维生长加快、神经节明显增大这一现象,是一种叫"神经生长因子"(NGF)的多肽在起作用。
  In 1952, biochemist Stanley Cohen discovered that a polypeptide called nerve growth factor (NGF) was responsible for the accelerated growth of sympathetic nerve fibers and the apparent enlargement of the ganglion in mice.
  1953年,由Vigneand领导的生化小组第一次完成了生物活性肽催化素合成。
  In 1953, a biochemical group led by Vigneand completed the first bioactive peptide-catalyzed peptide synthesis.
  1958年,美国加利福尼亚大学教授美籍犹太人生物化学家赫伯特·博意尔博士Herber Boyer潜心研究38年的活性多肽(HGH)利用细胞重组技术成功问世,它控制着蛋白质的合成数量、质量和速度;控制着人的疾病和衰老。因为发现了活性肽以及活性肽的作用,并于当年获得诺贝尔生物学奖。
  In 1958, Dr. Herber Boyer, an American Jewish biochemist and professor at the University of California, Used cell recombination technology to successfully develop the active polypeptide (HGH) for 38 years, which controlled the quantity, quality and speed of protein synthesis. It controls disease and aging. He was awarded the Nobel Prize in biology that year for his discovery of the active peptide and its effects.
  1965年,我国科学家完成了结晶牛胰岛素的合成,这是世界上第一次人工合成多肽类生物活性物质,此胰岛素就是51肽,为肽行业在我国的发展奠定了基础。
  In 1965, Chinese scientists completed the synthesis of crystalline bovine insulin, which was the world's first artificial synthesis of peptide bioactive substances, the insulin is 51 peptide, laid the foundation for the development of the peptide industry in China.
  20世界70年代,神经肽的研究进入高峰,脑啡肽及阿片样肽相继被发现,人类开始了对多肽影响生物胚胎发育的研究。
  In the 1970s, neuropeptide research reached its peak, enkephalin and opioid peptide were discovered successively, and human beings began to study the effect of peptides on the development of biological embryos.
  1975年,休伊斯和科斯特利兹从人和动物的神经组织中分离出内源性肽,开拓了"细胞生长调节因子"这一生物制药的新领域。
  In 1975, Huys and Kosterlitz isolated endogenous peptides from human and animal nerve tissues, opening a new field of biopharmatology called "cell growth regulators".
  1987年,美国批准了第一个基因药物——人胰岛素。
  1987 The first genetic drug, human insulin, was approved in the United States.
  20世纪90年代,人类基因计划启动。随着一个个基因被解密,多肽研究及其应用出现空前繁荣的局面。人们发现所有基因表达的生命现象都是由蛋白质而呈现,基因是合成蛋白质的信息指令,但人体所有的生理活动最终需要蛋白质才能完成。于是科学家把眼光放在生物工程的另一项庞大计划上,那就是蛋白质组计划。
  In the 1990s, the Human Genome Project was launched. With the deciphering of genes, the research and application of polypeptides are flourishing. It has been found that all the life phenomena of gene expression are presented by proteins. Genes are the information instructions for synthesizing proteins, but all the physiological activities of the human body ultimately need proteins to complete. So scientists turned their attention to another big project in bioengineering: proteomics.
  1990年,Rudman(罗德曼)博士正式提出解释人类疾病、衰老原因的HGH理论,首次将HGH真正运用于抗衰老及疾病预防领域。当年4月19日,美国《纽约时报》以《生命之源神奇的HGH》为题作出了整版的报道。
  In 1990, Dr. Rudman(Rodman) formally proposed the HGH theory to explain the causes of human disease and aging, and applied HGH to the field of anti-aging and disease prevention for the first time. On April 19 of that year, the New York Times published a full-page report under the title "The Magical HGH of The Origin of Life".
  多肽药物是一类市场增长极快的药物,过去的十年,复合增长率高达10.80%,未来的10年,按6%的复合增长率保守估算,2025年的多肽市场也可达400亿美元。21世纪是生物工程的时代,相对普通化药,多肽药物生命周期更长。杭州肽佳生物科技有限公司,致力于多肽技术开发和大规模生产研究,目前我们已经开发了多种功能活性多肽产品和高效协同复合美容肽产品。杭州肽佳生物为您提供各类优质的多肽。如您有需求和疑问,请与我们直接联系。Polypeptide drugs are a class of drugs with extremely rapid market growth. In the past decade, the compound growth rate is as high as 10.80%. In the next 10 years, the polypeptide market can reach us $40 billion by 2025 according to the conservative estimate of 6% compound growth rate. The 21st century is an era of bioengineering. Compared with common drugs, polypeptide drugs have a longer life cycle. Hangzhou Peptida-Jia Biotechnology Co., Ltd. is committed to the development of peptide technology and large-scale production research. At present, we have developed a variety of functional active polypeptide products and highly effective synergistic composite beauty peptide products. Hangzhou Peptide good biological to provide you with a variety of high quality peptides. If you have any needs or questions, please contact us directly.